Stillbirths; A National Health Crisis Needing Immediate Attention!!
Quddsia Tanveer

Senior Registrar, Department of Gynecology & Obstetrics, Jinnah Hospital, Lahore Pakistan

Anees Fatima

Associate Professor, Department of Gynecology & Obstetrics, Madinah Teaching Hospital, Faisalabad Pakistan

Saadia Khanum

Associate Professor, Department of Gynecology & Obstetrics, Islam Medical College, Sialkot Pakistan

Muhammad Tayyab

Professor & Head, Department of Gynecology, Al-Aleem Medical College / Gulab Devi Hospital, Lahore Pakistan
Keywords:
Stillbirth, Risk factors, Preterm labor
Abstract
Background: Stillbirth is common with 1 in 200 babies born dead. The stillbirth rate has remained generally constant since 2000.  In addition to physical effects, stillbirth often has profound emotional, psychiatric and social effects on parents and family. Objective: To study the maternal and fetal risk factors related to stillbirth. Study Design: It was a retrospective audit of stillbirths. Settings: Department of obstetrics and gynecology unit-III, Jinnah hospital Lahore. Duration: Two years from January 2014 to December 2015. Methodology: A total of 322 patients who had stillbirths > 28 weeks of gestation were included in the study. Information regarding patient's demographic data, antepartum and intrapartum events was recorded on specially designed proforma. Results: Mean maternal age was 27.1+ 5.3 years. Un- Booked cases constituted 73.2 % (n=236) while 26.7% (n=86) were booked. Mean gestational age was 33.6 + 3.6 weeks while mean birth weight was 2.26 + 1.1 kg. Frequency of male stillborn was higher i.e., 51.53% (n=168) than females i.e., 48.4% (n=158). Fetal hydrops was there in 1.24% (n=4) cases while 2.1% (n=7) had gross congenital anomalies. Breech presentation was there in 3.72% (n=12) and 2.48% (n=8) had neglected transverse lie. No cause could be identified in 22.3% (n=72) of cases. Preterm delivery occurred in 66.77% (n=215) while 21.4% (n= 69) had Pre-prom. Hypertension could be identified in 24.5% (n=79) of cases while 16.4% (n=53) had placental abruption. Low birth weight was noted in 54.3% (n=175) while inadvertent use of oxytocic drugs was there in 23.6% (n=76) cases. Conclusion: Most of the stillbirths are avoidable and can be prevented by comprehensive and accessible health care to all women before and during the pregnancy and labor.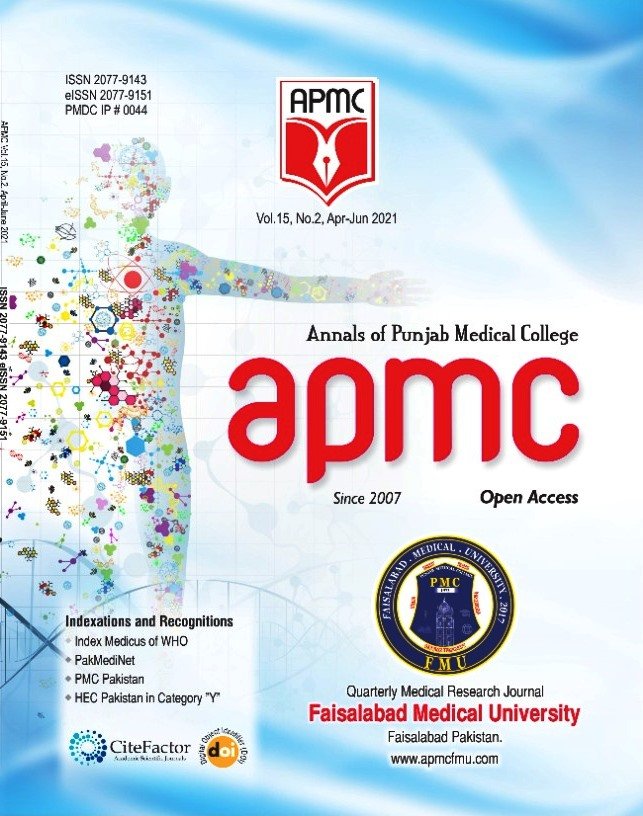 How to Cite
Tanveer, Q., Fatima, A., Khanum, S., & Tayyab, M. (2021). Stillbirths; A National Health Crisis Needing Immediate Attention!!. Annals of Punjab Medical College (APMC), 15(2), 109-112. https://doi.org/10.29054/apmc/2021.149